Traditional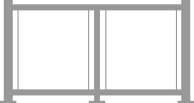 This is our 'standard' railing configuration. It utilizes our smaller top rails to pass over our intermediate posts and butt to the sides of larger end posts. Installations done in this manner have far fewer cuts required and allows for the most flexibility.
Post to Post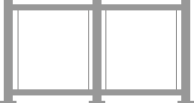 Post to post is just that, our top rails run and end at each post on a run. This is often chosen for aesthetic purposes.
Over the Top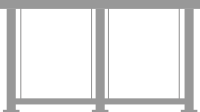 Our smaller top rails can run over the top of our intermediate posts; likewise our larger top rails can run over the top of our 1-3/4" and 2-1/2" posts, with field mitered corners. The result is a smooth continuous line that is a very popular form of installation.
Double Top Rail
This is an attractive utilization of our railing system which combines our method of going post to post with going over the top.