Roof Access Hatch
Standard Features and Benefits:
Engineered with gas struts to provide smooth, easy,one-hand operation, regardless of size.
Automatic hold-open arm locks the cover in the open position to ensure safe egress.
Overlapping cover design, full welded corners on cover and curb, EPDM rubber gasket, and fully insulated cover and curb ensure weather tightness and energy efficiency.
Constructed with corrosion resistant materials to provide many years of trouble free, dependable service.
Heavy gauge construction and positive latching mechanism to maintain building security.
General Specs
Material: Aluminum cover and frame.
Cover: Brakeformed, hollow-metal design with 1″ (25 mm) concealed XPS insulation, fully welded corners and seams, and internally reinforced for 40 psf (195 kg/m2) live load.
Gasket: Extruded EPDM rubber gasket permanently adhered to cover.
Hinges: Heavy-duty full length corrosion resistant aluminum hinge.
Latch: Slam latch with interior turn handle, padlock feature and exterior cable release.
Lift Assistance: Telescoping gas struts with automatic hold-open mechanism and one handed cable release system.
Performance Ratings: Complies with UL 790 Class A.
Finish: Aluminum: Mill Finish.
Hardware: All other hardware is zinc plated/chromate sealed.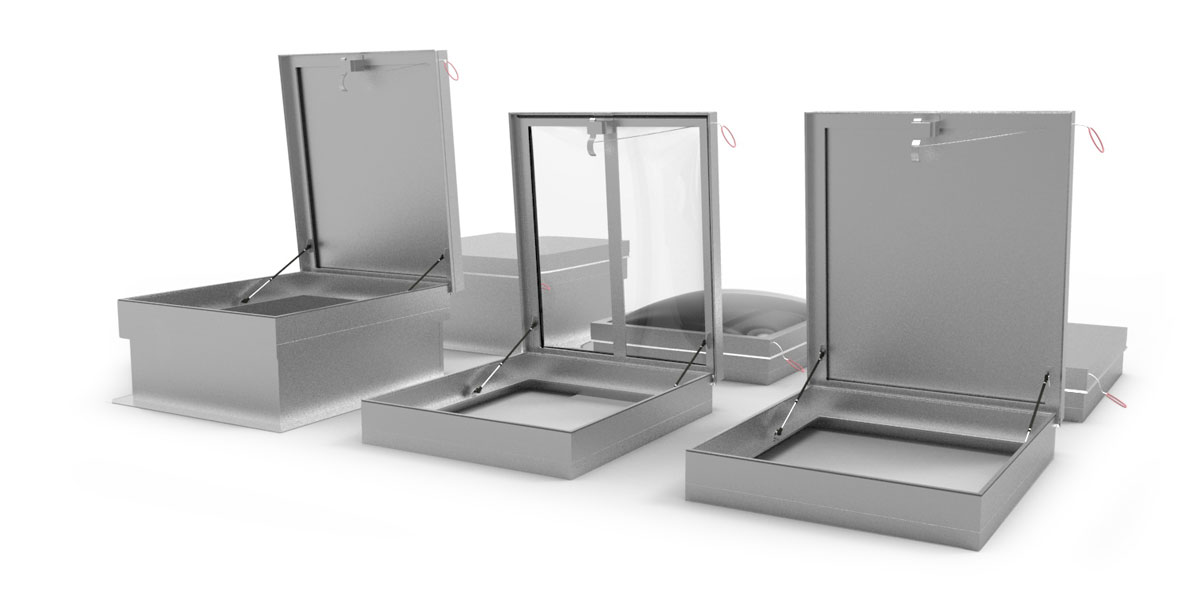 Standard Options
Curb Mount and Self Flashing models available.
Curb Mount available with either flat lid or double dome glazing.
Aluminum Mill Finish. Custom paint available.
Standard Sizes
30″ x 36″ rough opening
64″ x 36″ rough opening
48″ x 48″ rough opening
Custom sizes available.
Documents & Resources
10 Year Limited Warranty
CrystaLite roof hatches with aluminum lids are warranted against manufacturer's defects for a period of ten (10) years from date of purchase.
CrystaLite roof hatches with plastic dome lids are warranted against manufacturer's defects for a period of five (5) years from date of purchase.
Warranty replacement units will be remanufactured in the same size and description as the original units only and does not include removal of defective unit or installation of replacement unit. Warranty period will remain in effect from the original date of delivery. Warranty orders will be chargeable items with proper credit given upon return and inspection of original item.
Any modification and/ or changes to the product without the written consent of CrystaLite, Inc. will render the warranty null and void.