Safety Grids - Skylight Fall Protection
Exceeds OSHA Regulations
Safety Grids are available in two variations which exceed OSHA and WISHA requirements for providing fall protection; static loads of 200 lbs and 800 lbs respectively. Both Safety Grids, ELITE and DEFENSE, resisted without failure dynamic impacts of 800 lbs created by a 200 lbs heavy bag released from 48 inches; followed by holding over a HALF TON (1,038 lbs) of static load for 5 minutes. Testing was witnessed for verification by a third party accredited testing laboratory. Test report available upon request.
Safety Grids are installed on the top of the structural curb in the daylight opening which allows for retrofit installations as well as new construction. Fasteners to be installed on top face of the perimeter with recommended spacing of 6" on center.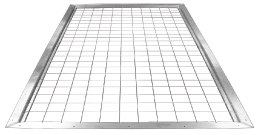 ELITE - Safety Grid
Composed of aircraft grade aluminum frame, laced with galvanized 1/8" cable. An elegant solution to providing worker fall protection without compromising interior design.
Dynamic Load Test Resistance

800 lbs.

Static Load Test Resistance

1,038 lbs.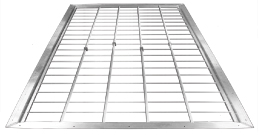 DEFENSE - Safety Grid
Composed of aircraft grade aluminum frame and 3/8" solid bars. This fall protection grid also provides resistance against burglar break ins.
Dynamic Load Test Resistance

800 lbs.

Static Load Test Resistance

1,038 lbs.

Burglar Resistance

YES